Hustlers University Review
Hustler's University was updated and rebranded at the end of 2022. The new version is known as The Real World (reviewed here). The HU review below is preserved for posterity.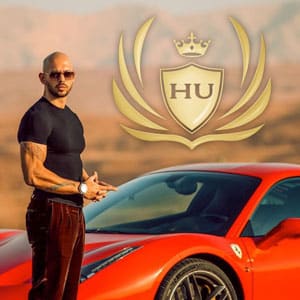 Welcome to our definitive Hustlers University review.
My team and I have spent several hours researching the training – and Andrew Tate himself – and going through the material to see if it lives up to the hype.
(Have you taken this course? Add your rating!)
If you're eager to learn…
What exactly they teach you in the course
The pros and cons of Hustler's University
Is Andrew Tate a scam or legit?
If it's possible to get a discount for Hustler's University 2.0
Then definitely keep reading.
About the Author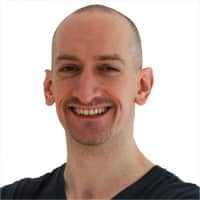 Hey, I'm Niall Doherty.
I quit my last 9-to-5 job back in 2010.
Since then, I've earned my living online in various ways. Over the last 3 years (through 2022) I've earned $536,000 from my laptop.
I'm on a mission to accurately rate and review all the best online business courses. My team and I are spending many hours investigating these courses and getting feedback from real students.
All that to say: we know a thing or two about such courses and making money online.
The Best Online Business Course?
We're on a mission to find the best courses to help you make money online, based on our own extensive research plus feedback from real students.
The Hustler's University training covers many ways to make money online, such as copywriting, Amazon FBA, and option trading.
While HU has its merits, it isn't one of the best courses we've reviewed…
 Top 3 Online Business Courses 
How does Hustler's University help you make money?
Hustler's University is an entire suite of courses, all aiming to help you make money online.
In order of popularity, here are the courses – or "campuses" – you get access to when you join Hustler's University…
Copywriting Campus
E-Com Campus
Crypto Campus
Freelance Campus
Stocks Campus
Amazon FBA Campus
Affiliate Program
You learn from a whole bunch of teachers / instructors inside the training, including Andrew Tate himself…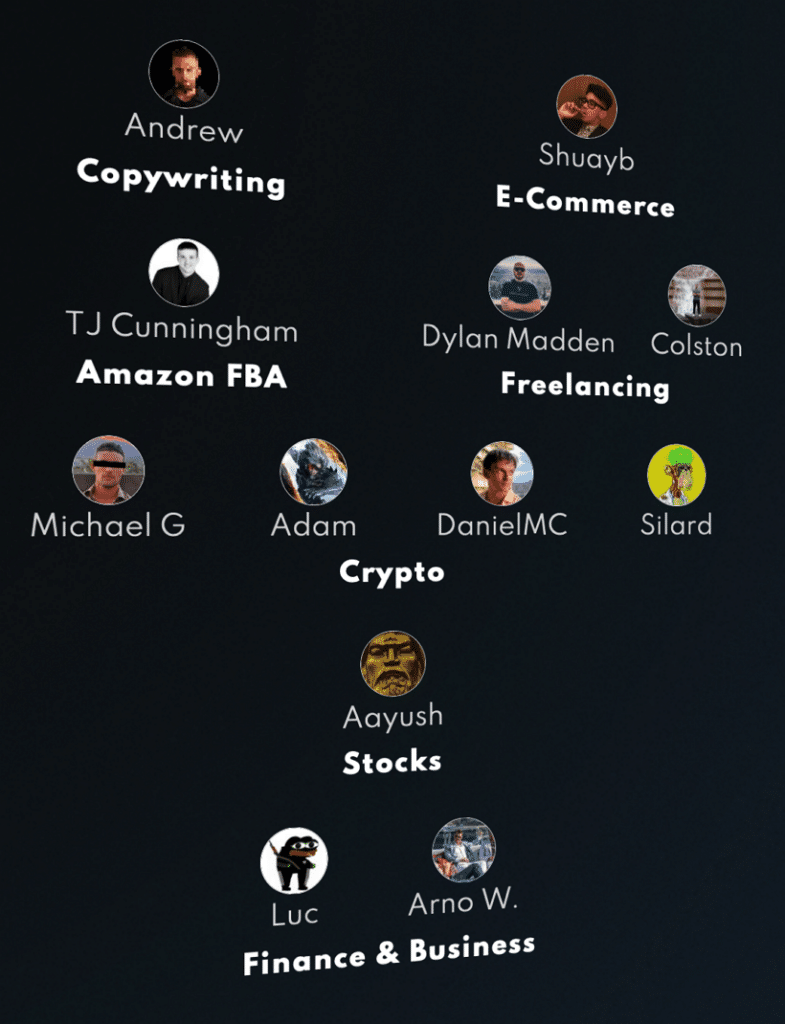 According to this sales page…
All of our professors made over $1M in profits using the methods they teach in The Real World.
Learn more about:
Who is Hustler's University for?
Andrew Tate, the founder of HU, sells the course as a platform for complete beginners to make money online…
The training certainly has something for everyone, even complete beginners.
However, the claim that you will make money on day one is a stretch, especially if you're new to business and entrepreneurship.
Personally, I'd say that Hustler's University is mainly for fans of Andrew Tate who are happy to pay $50/month for a broad introduction to many ways of making money online.
If this hype video resonates with you, you'll probably like Hustler's University…
Does Andrew Tate have a good reputation?
Hustler's University is somewhat controversial, mainly because Andrew Tate is quite controversial.
Several prominent YouTubers have taken Andrew Tate to task for the controversial things he has said and (allegedly) done in the past.
This video provides a good overview…
As does this article from The Guardian: Inside the violent, misogynistic world of TikTok's new star, Andrew Tate
Despite those allegations, Andrew Tate has built quite a big following online, and my research uncovered far more praise than criticism for him and his online courses.
However, much of that praise rings a little hollow.
For example, the positive reviews for Andrew Tate on Trustpilot sound like they come from either affiliates or people who have just recently discovered him. The latter are usually hopeful that he'll help them make money online.
A prime example of such praise…
As a member of HU2 I can confirm it's 100% legit. I was sceptical at first but it is the real deal. I've been a member for a week and have already started pushing out emails to get clients. Soon I'll be learning how to creat ads and buisness pages. Its as real as it gets man, my emails are improving daily. You need to have a strong focus on it though and soak up all info provided. There's also a chat that u can post your work to to get points of view on it, feedback.
Are Andrew Tate's students getting results?
Despite the controversy, it's easy enough to find students of Hustler University reporting results across all campuses.
For example…
There are also testimonials on the course info page, but they're not very convincing. Most of them just praise the course overall, with only a few believable success stories.
Nevertheless, many students' reported earnings are much bigger than the price of HU, so my impression is that the training proves effective for most people who put in the work consistently.
How much does Hustler's University cost?
The price of Hustler's University is listed at $49.99 per month.
So if you stay in the course for a full 24 months, and the price doesn't change during that time, you'll spend a total of $1176 just on the training.
(Of course, you can cancel your membership at any time.)
There are some additional expenses for some of the campuses, but they are listed on numerous places throughout the courses' Discord threads.
For example…
Hustler's University Discount?
I've searched high and low for a discount or coupon code but have yet to find mention of one anywhere, and there's no place to enter a discount code on the Hustler's University checkout.
Sorry guys: it's full-price or nothing.
Refund Policy
There are no refunds for Hustlers University.
You can only cancel your subscription, but make sure to do it before your membership is renewed for another month.
From the cancellation info page for Hustler's U…
If you paid $50 to join on May 1st, and then cancelled it on May 2nd, you would be removed from the discord on May 31st. Or you could pay to join on May 1st, and cancel it on May 31st and you would be removed May 31st.
How is Hustler's University structured?
The course is hosted entirely on Discord, a popular social chat platform.
Hustler's University is made up of several "campuses", each one getting its own Discord group.
Here's what the general group looks like once you sign up…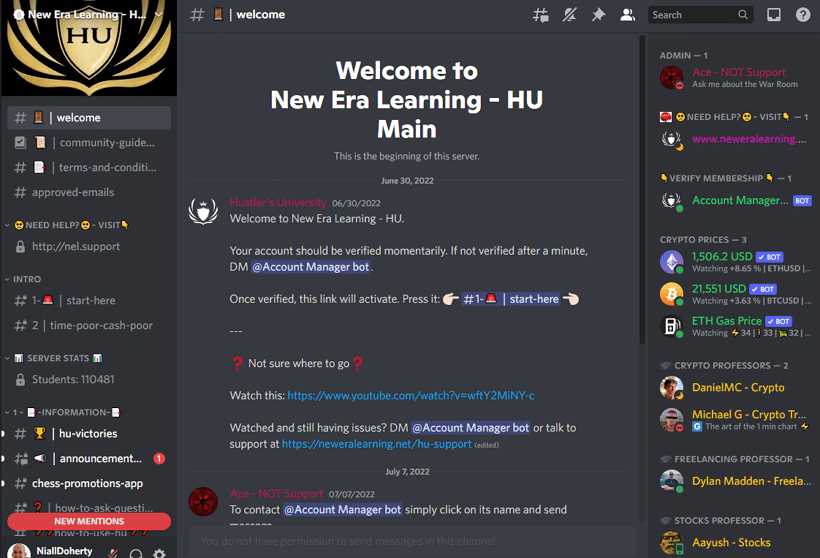 As soon as you start following the first steps, you will be prompted to select one quadrant from the following:
Time Rich – Cash Poor
More than 28 available hours per week, less than $5000 free to invest.
Time Poor – Cash Poor
Less than 28 available hours per week, less than $5000 free to invest.
Time Poor – Cash Rich
Less than 28 available hours per week, more than $5000 free to invest.
Time Rich – Cash Rich
More than 28 available hours per week, more than $5000 free to invest.
Wherever you're starting from, the course promises to help you reach the final quadrant 
The biggest problem with the HU training is Discord itself.
Discord may be a great platform overall, but IMO it's not a good choice for a course like this. The campuses look scattered, and it seems like different people are in charge of each one so they often have different setups.
For instance, the Copywriting Campus lays out the majority of lessons without much hassle, and requires you to take a quiz to move on to the advanced level. But the course for Stocks requires you to complete a small quiz every time you go through a lesson. Because there are so many of these quizzes, this may feel tedious for many students rather quickly.
The quality of the training seems to vary by campus as well…
Copywriting Campus
The Copywriting Campus is probably the best because it has everything laid out in video lessons. Many of them come with additional materials, like relevant online tools and PDF files. I found the info to be solid and easy to digest.
Freelance Campus
The Freelance Campus is another good one. The instructor speaks clearly, and there's an abundance of lessons, both text and video, but mostly video.
It's also decently structured – it won't show you all the threads immediately, but rather as soon as you complete all the lessons (or press the button required to proceed). This makes the campus much easier to understand.
Amazon FBA Campus
The Amazon FBA Campus is also quite good. It shows you all the lessons immediately. Again, there are lots of videos, followed by a bunch of text.
Stocks Campus
The Stocks Campus primarily teaches you how to trade options. It starts off well, but as mentioned, it has way too many quizzes IMO.
I would also have liked to see more video lessons here. The majority of the course is text lessons.
Crypto Campus
The Crypto Campus is similar to the one for Stocks, but it has more visuals, and doesn't require you to complete a quiz every now and again.
Ecommerce Campus
The E-Com campus is the most scattered of all, IMO. I found it by far the hardest to navigate, and it's also mostly text lessons. There are some videos, many of them in slideshow format. There is decent value there though, with many of the lessons packed with practical advice.
Affiliate Program
Last, but not least, Hustler's University also has some basic affiliate marketing training.
The lessons here are all text, and they're mainly just teaching you how to promote HU itself.
That might sound a bit MLM-y, but the affiliate marketing campus of HU seems to be the least popular; they don't push you to join it or promote HU to other people. It even took me a while to find this corner of Hustler's University!
The Community
If there's one thing HU truly excels at, it's the community. 
Every day, 1000's of course students share their wins, ask questions, and help each other out. Whether you like Andrew Tate or not, you have to give it to him for bringing together so many like-minded individuals.
One final issue to be aware of: Hustler's University requires lots of scrolling!
This especially goes for the bigger / more popular campuses, where you often have to scroll back up through tons of content to find what you're looking for.
Green Lights 
Some positive points for Hustler's University…
Frequent student success stories.
Active private community.
The training is practical and step-by-step.
Several courses in one, covers a lot of ground.
Low price to get started.
Red Flags 
A few things to be wary of regarding Hustler's University…
So much content it can be overwhelming, and not always easy to find your way around.
No refunds.
Many big skeletons in Andrew Tate's closet.
No mention on sales page of expenses beyond the price of the training.
Claims ecommerce is an easy way to make money online.
Other things you should know
Despite the overhyped marketing for this course, its interior is not riddled with any unrealistic claims. Once inside, you'll see that it's not a get-rich-quick scheme, and they emphasize putting in the work to get results. You'll still come across some people in there who make it all sound super easy, but they are few and far between.
Among the most common critiques for this course (especially on Reddit) is that there are free courses that offer more knowledge, albeit they don't cover so many different topics.
Another potential issue with the course: there's so much in there that it can be overwhelming, and it's easy to get distracted and jump from one "shiny object" to the next. If you're brand new to online business, my advice would be to stick to the Freelance and Copywriting Campuses to start. Learn the skills taught there and you're more likely to earn a good income in the coming weeks and months. Once you've mastered them, you can leverage those same skills to hit the ground running in the other Campuses.
Should you join Hustler's University?
If you're a big fan of Andrew Tate and eager to learn from him and his buddies, then I'd say Hustler's University is a worthwhile investment for you. You'll likely find some good tips, processes and mentors within the training and private community.
If you're on the fence, trying it for a month only costs $50, which is pretty great value compared to all the other courses we've reviewed over the years.
However, if Andrew Tate rubs you the wrong way, it's probably best to avoid Hustler's University.
If you still want to learn any of the subjects the course teaches, I'd recommend starting with some low-priced courses – eg. from Udemy – to test the waters.
HUSTLERS UNIVERSITY – KEY POINTS
| | |
| --- | --- |
|   About | Several courses in one from Andrew Tate, teaching various ways to make money online. |
|   Price | $49.99 per month (join now, more info) |
|   Pros | No additional costs (for some courses), covers a lot of ground, frequent student success stories. |
|   Cons | No refunds, training feels disjointed, tons of controversy around Andrew Tate. |
|   Verdict | Worthwhile for Andrew Tate fans who want to learn any of the subjects covered in the course. |