E-commerce in Africa
The GSMA Central Insights Unit has initiated a research project with the Department for Business & Trade of the UK Government to identify trends in e-commerce adoption in Africa. We are surveying 1,500 MSMEs in six markets (Egypt, Ethiopia, Ghana, Kenya, Nigeria and South Africa) to understand their pathways to digital commerce, and the challenges they are experiencing.
The research will culminate in the launch of a report at MWC Africa 2023 in Kigali, Rwanda, which will offer examples, best practices and recommendations for e-commerce platform providers and MSMEs transitioning to e-commerce.
To kick off our project, on 1st March 2023 we convened a roundtable discussion with experts at Mobile World Congress (MWC) Barcelona. We had in attendance some of the largest e-commerce platforms in the region, Jumia, Wasoko and Twiga Foods, as well as Rwanda's Ministry of ICT and Innovation, the International Trade Centre and the African Telecoms Union, among others (full list below). This blog summarises the key points from our discussion.

Sizing the opportunity
According to the International Trade Administration, by 2025 half a billion people in Africa will be e-commerce users. And according to UNCTAD, digital commerce could add $180 billion to the region's GDP by the same year. This growth is driven by the expansion of the mobile Internet. GSMA expects 61% of connections in Africa to be on smartphones by 2025 (33% on 4G). The growing adoption of digital financial services, primarily mobile money, is also contributing to e-commerce growth.
For businesses, conducting transactions online presents an opportunity to improve efficiency, combat supply chain challenges, and reach wider markets. For consumers, e-commerce promises access to a wider variety of products, and greater convenience in the form of time and cost savings. Like in other parts of the world, COVID-19 has given impetus to transitioning to digital commerce. Even so, today 90 percent of transactions in Africa are still in cash.
E-commerce trajectories
In our roundtable discussion, there was consensus on the distinctiveness of e-commerce models and trajectories in the region. While some challenges are unique to each market, many hurdles are common across the region. These include infrastructural challenges related to the availability and reliability of road networks, inadequate addressing systems and logistics networks, smartphone affordability and the persisting challenge of bridging the usage gap, both at the consumer and MSME level. In addition, the low penetration of card and digital payments continues to be a major obstacle, especially if rural populations are to benefit from e-commerce.
E-commerce in the region takes different shapes, from direct sales on company websites, to informal social commerce models, whereby micro businesses use social media, from Facebook to WhatsApp and Instagram, to sell their products online , to e-commerce platforms facilitating B2B and B2C trade. A few Amazon-like direct-to-consumer platforms like Pan-African player Jumia, Konga (Nigeria) and Takealot (South Africa) have made significant strides by selling a variety of products, from fashion to technology items, largely to urban and more affluent consumers.
Figure 1: Orders by destination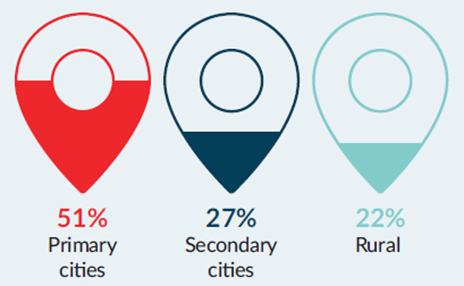 Source: Jumia Africa E-commerce Index 2021
B2B e-commerce platforms: What is the outlook?
Increasingly, platforms are adopting the B2B model in a quest to serve small retailers and digitise the distribution layer of the fast-moving consumer goods sector. Corner shops and street vendors are the most common and popular option for African shoppers, particularly in urban and peri urban areas.
In Kenya, for example, street shops (or dukas) are by far the most widely available option for groceries and household staples. B2B e-commerce platforms such as Wasoko (formerly Sokowatch) and Twiga have been in the market for some time, focusing on digitising the upstream of value chains and helping small retailers buy and sell more efficiently.
To drive customer stickiness, the value proposition of B2B e-commerce platforms has had to expand beyond access to markets for retailers. Platforms have become one-stop-shops offering a variety of value-added services, including credit to ensure retailers can keep their stock volumes. In Kenya, Twiga has been successful in linking small vendors of fresh produce directly to smallholder farmers, displacing the middleman. Over time, it has expanded to provide a suite of services to these micro enterprises, from credit facilities and buy now pay later schemes, to advisory services and insurance.
B2B platforms have been in favour with investors, but, like B2C platforms, they are far from reaching profitability due to high expenses. As highlighted by our roundtable discussants, in challenging operating environments, and faced with infrastructural challenges, e-commerce platforms have had to design end-to-end solutions, extending to logistics and delivery, payments, and micro-credit solutions. Going forward, if e-commerce platforms are to succeed, they must find ways to control costs via partnerships, for example with logistics companies, while continuing to expand their offer and user base.
Payments: the main pain point
The cost of digital payments is a persistent challenge to e-commerce adoption, and broadly to the adoption of digital financial services. Transaction costs, which can be relatively high for small purchases, act as a deterrent for consumers with low purchasing power. In contexts where cash is perceived as a "free" payment option, it is challenging to convince consumers to pay via digital means, even when they are are widely available.
The other major hurdle is KYC for payments processing, as outlined during our roundtable discussion. Where largely informal micro enterprises make up for over 80%, more often over 90%, of the total base of MSMEs, documents required to register as a company are often lacking. Businesses may therefore transact as individuals, processing large payments in multiple small personal transactions and getting flagged for fraudulent activity.
Figure 2: Proportion of MSMEs by enterprise size, selected countries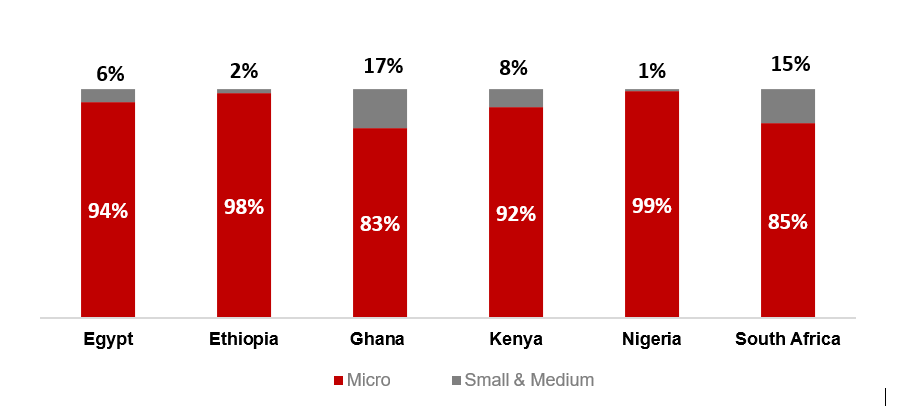 Source: D3 Systems, country-level research (micro enterprise: 0-10 employees)
For platform-based business models to succeed, MSMEs' transactions must be recognisable as business transactions. Hence there is consensus that solving for KYC challenges for merchant payments should be a key priority.
A way forward
Despite the challenges, e-commerce in Africa is set to expand in the coming years, benefiting economies and fostering the digitalisation of MSMEs. Our roundtable discussion at MWC Barcelona touched on the levers required to support growth.
Fostering the proliferation of digital payments through digital and financial literacy upskilling for MSMEs is a priority. At the same time, advancing interoperability of both domestic and cross-border payments across Africa's network of 50+ countries will help ease constraints of doing business. We should also see substantial innovation in digital addressing systems, as more tech providers come up with solutions leveraging satellite data, mobile technology and AI capabilities.
Technology innovation is part of the solution, but there is a need to continue working on building trust in digital commerce, not only at the payment layer, but more generally between consumer and merchant, and between merchant and technology provider, to interact and do business digitally.
Geater cooperation between the private and public sector will be equally important, not only at the enabling/regulatory level (e.g. payments and addressing systems), but also in testing and piloting solutions. An example comes from Rwanda where the Ministry of ICT and Innovation, recognising the benefits of digital commerce for digital adoption, has been supporting e-commerce adoption by aggregating MSMEs and providing training on digital skills.
As we continue to research the e-commerce landscape in Africa, we welcome your input. If you are interested in this topic, please contacts us by here.
---
We would like to thank our participants of the roundtable titled "The e-commerce opportunity in Africa" which was held on Wednesday 1 March 2023 at MWC Barcelona: 4R Digital, African Telecoms Union, The Alliance of Digital Finance Associations, Analysys Mason, Arm, Chipper Cash, Department for Business & Trade of the UK Government, Foreign, Commonwealth and Development Office of the UK Government, German Corporation for International Cooperation (GIZ), International Trade Centre, Jumia, Ministry of ICT and Innovation of Rwanda, Twiga Foods, Wasoko.
In the coming weeks, the GSMA Central Insights Unit will be releasing findings from surveys with MSMEs conducting e-commerce in Egypt, Ethiopia, Kenya, Ghana, Nigeria and South Africa.
THIS INITIATIVE IS FUNDED BY THE UK FOREIGN, COMMONWEALTH & DEVELOPMENT OFFICE (FCDO), AND SUPPORTED BY THE GSMA AND ITS MEMBERS.