Learn digital marketing – Lectera
How to learn digital marketing
But what is digital marketing? Simply put, digital marketing promotes and sells products or services online via various channels, from search engines to social media.
If you're looking for ways to launch a new career in digital, or if you're looking to expand your skills and become indispensable to your company, this article is for you. Here you will find a complete guide to learning digital marketing, from step-by-step instructions to recommendations for specific training platforms and courses.
Why learn digital marketing?
In the digital age, it would be strange not to use digital technology to help you grow your business. Additionally, the needs of today's customers have grown considerably, and so has the level of competition in the market. It's no longer enough for today's customers to be satisfied with only the quality of their goods; they also require speed and constant motivation. They've also become finicky about advertising because new technologies have opened up new ways for them to interact with brands and for brands themselves to sell more flexibly and effectively.
Thus, the use of digital marketing not only increases the business's profit but also its reputation and image in the eyes of the client. Traditional forms of advertising today no longer work as before, and if only they get used, then this is considered a bad thing. The statistics for 2022 also speak in favour of the mandatory introduction of digital marketing into business life:
More than 72% of marketers have invested in SEO optimisation.
56% of digital marketers confirm that using this type of marketing has increased the viability and profitability of their company.
About 40% of marketers named content marketing the most important digital marketing area.
Experts predict that by 2023 the number of social media users will grow to 3.5 billion.
Do you think these benefits of learning digital marketing are convincing enough? We believe they are. So don't doubt your desire to learn digital marketing if you have one. Your business will benefit from it, and so will your career.
Key digital marketing areas to learn
There are several digital marketing areas that you can learn comprehensively or individually, depending on your professional goals and preferences.
1. Email marketing
Email marketing is the 'oldest' area where it's easiest to start your digital marketing campaign, as it allows you to build a base of contacts and establish an initial connection with your customers. Simply put, email marketing is an email marketing campaign where you introduce your brand to potential customers and promote your product. The key to any mailing is to motivate the user to take targeted action, whether it's to go to a catalogue or take part in a survey. It is also vital to provide each email with a concrete benefit the user gets when they open it because advertising alone is not enough. You also need useful content.
2. Social media marketing (SMM)
Without social media, highly likely, digital marketing wouldn't exist at all. Currently, this type of marketing is the most selling and effective because the popularity of Facebook, Instagram, and Twitter are off the charts to this day. Millions of users use them regularly, and thanks to the platforms' built-in features, businesses have access to the widest audience and the tools to create content. Social media is also the easiest way to maintain relationships with customers and engage them with your brand – for instance – through likes, comments, and contests. Social media also allow you to track your target audience's interests and needs, so they are an indispensable marketing channel.
3. Search Engine Optimisation (SEO)
It's about adapting your website to search engine algorithms so that it's at the top of the list when users enter specific keywords. After all, we tend not to scroll beyond the first page of a search engine. That's why the closer a site is to the search engine bar, the more likely it is to get clicked on. However, SEO includes attracting traffic and compiling the site's semantic core, ensuring the content is clean and "dense," connecting channels for organic traffic, creating an easy-to-navigate site, and much more.
4. Content Marketing
This type of digital promotion overlaps with many others, as an email newsletter, for example, would lose effectiveness without quality content, as would the same SMM. Thus, content marketing is the first thing you should master at the beginning of your digital journey. Content can be educational and entertaining. For instance, articles on original ways to use a product, meet-and-greet posts, infographics, videos and photos, checklists and anything else you can think of that will benefit the customer and pique their interest.
Confident Email Marketing. Client Segmentation and Reactivation
Recommendations for work with an out-of-date client base, audience segmentation process, building a client avatar
Launching Facebook Ads. Take Your Business to the Next Level
Recommendations for A / B-testing methods audience involvement, advice for the development of the page
5. Targeting and/or Contextual Advertising
Online advertising allows you to reach specific segments of your audience, thereby increasing its effectiveness. For instance, targeting will enable you to customise your ads by gender, age, location, and even interests. In contrast, contextual advertising is only seen by those who have already expressed an interest in your product or brand. In this way, you can save significantly on advertising resources.
6. Influencer Marketing
Since time immemorial, people have listened to those they know and respect, and today bloggers serve as opinion leaders. Thus, the essence of influencer marketing is native advertising, when the blogger tells and shows your business's products to their audience, thereby increasing its credibility and brand awareness. This type of digital marketing usually requires significant resources and analytical skills because the effectiveness of such promotion largely depends on the right choice of a blogger.
7. Mobile app
According to statistics, more than half of people who shop online do so from mobile devices. That's why having a mobile app that adapts all the features of your website to a smartphone is essential. It improves the user experience and can tip the market in your favour. After all, users will remember convenience when they choose to buy from you or a competitor.
8. Video Marketing
Video marketing implies that you must start your YouTube channel and create quality video content to attract, engage and persuade your audience. This type of marketing is considered part of content marketing, but it has its specifics, techniques, and methods. Video editing, shooting, framing, selecting angles and palettes, working with sound, and much more are all taught in video marketing courses.
Now to the main thing: how do you learn digital marketing, preferably remotely, without having to return to the walls of your native university?
How to learn digital marketing at home
The great news is that you can learn digital marketing from the comfort of your own home. Of course, not without help, as we'll tell you below, but rest assured that you won't have to devote much extra time to it. All you need to do is access some online resources and follow our instructions:
Step 1: Get an overview of your major
Before you choose any online courses or generally decide on the direction, you need to learn all of them, know what they are, what they are for and how to combine them in the future. Free guides, articles, manuals that you can find online, as well as blogs of professional marketers – e.g., on Facebook or LinkedIn – and books with author's methodologies, which you will find in the section below, will do this. All this allows you to form an objective opinion about the types of digital marketing and ultimately make the right choice as to which of them you want to master in the first place.
Step 2: Starting your training
Of course, you can study with Google or with free video tutorials on YouTube. Still, this will not replace a full course, where you will get all the additional materials, checklists, instructions and templates, as well as the attention of a mentor or speaker. A systematic approach characterises all e-learning. It shows the integrity of knowledge and structure from "simple to complex." Therefore, we advise beginners to start with them to avoid accidentally jumping to another topic. Additionally, you only get the knowledge that will be relevant at the moment. Videos on YouTube, in contrast to online courses, are not updated, while market trends are changing monthly.
Step 3: Practice and practice again
Once you have your initial theoretical knowledge, you need to transform it into a practical skill. If an online course does not have this built-in practice – as Lectera courses, for example, offer – then you need to think about how you will begin to apply what you have learnt in life on your own. It is best if you start testing them directly in your own work from the very first day of the course. For example, offer to write a series of posts for your company's social media or do an email newsletter.
Content Marketing. Ad-Free Sales Strategy
23 tools for sales without a budget: maintaining a blog, newsletters, ugc content, engagement, contests
SEO — To Google's Top. Website Optimisation for Promotion
Tips of how to adjust key website elements, ways to improve relevance, features of voice search
Step 4: Create your blog or marketing channel
There's nothing like teaching others what you've learned for yourself to consolidate your knowledge or add value to it. It's also an alternative way of practising your skills if for some reason you can't practise them within your current company. Just start telling others how to learn digital marketing. Share your experiences of the courses you have taken, the new techniques you have learnt, achievements, and even mistakes. It not only promotes practice but also helps to keep you motivated and interested in self-development.
Step 5: Networking and connecting with the pros
Don't limit your contacts with professionals from your new field during or after learning digital marketing online. "I already know everything", "I don't want to communicate with colleagues/competitors", and "Why do I need networking when there are online courses" – are all obviously losing positions. A professional digital marketer always keeps in touch with industry peers, allowing you to stay up to date with trends, gain new knowledge and share it. You can also find your mentor, or at least learn from a specific individual who inspires you and whose success you aspire to achieve.
Step 6: Self-improvement
Prepare to learn digital marketing in perpetuity. Digital marketing is a highly fluid, dynamic, and reactive environment, constantly evolving with technology and societal demands. So, check out your chosen online resources regularly, and at least once every six months, monitor new courses to ensure you're following them!
Where to learn digital marketing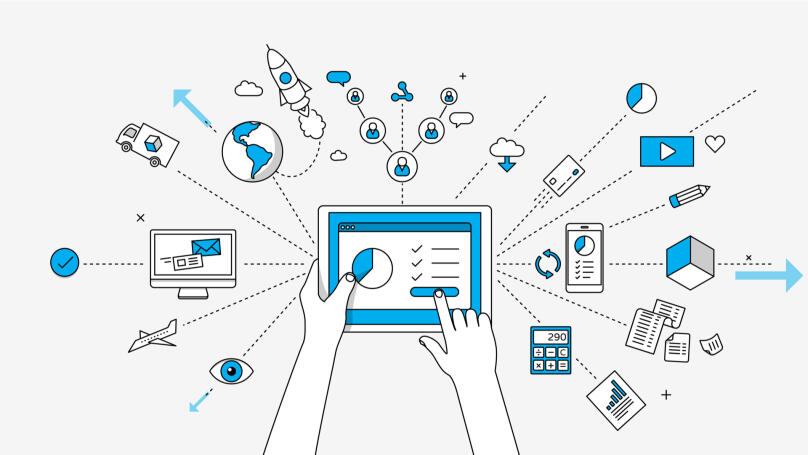 Now we come to the most important question: where exactly should you look for professional digital marketing training and take courses to learn digital marketing quickly and easily? After analysing feedback from various students, we recommend three international sites to choose from:
The educational platform Lectera offers training in nine areas, which in addition to digital marketing, also include business, sales, soft skills, financial literacy and more. Furthermore, it offers all courses in several languages, including German, English, and Spanish. Here, in addition to theory, you'll find in-built skills training in the form of special case studies and case tests, which help put the acquired knowledge into practice from the first days of training. And all this takes a maximum of a few days; the theory, presented in the form of video lessons, requires no more than 3-4 hours to complete.
Lectera is the best place to learn digital marketing because it bases its courses on the innovative Fast Education methodology, which gives students extremely rich and highly practical information devoid of unnecessary theory. Because of this, Lectera courses are superfast and flexible, as they allow you to pump up new skills without interruption and regularly, which solves the problem of the volatility of the digital marketing niche.
On the Lectera platform, the best digital marketing courses are:
"Confident Email Marketing: Client Segmentation and Reactivation." A classic of digital marketing that will teach you how to create email newsletters and use multichanneling. You will also learn how to provide your emails with engaging content, motivate the audience to take a targeted action, and build long-term relationships with them. It is exactly the course from which it is best to get acquainted with the principles of digital marketing.
"Content Marketing. An Ad-Free Sales Strategy." The key basics, without which you can't go far in the digital sphere in any case. You will learn how to create effective content for newsletters, social networks and your website, conduct a product presentation in this way, involve the audience in the brand's life and increase sales.
"SEO — To Google's Top. Website Optimisation for Promotion." Master the truly complex but incredibly effective art of SEO optimisation from scratch to a professional level. You will get a detailed guide on indexing pages in Google, working out site navigation, writing SEO headlines and attracting new traffic to the site using usability.
Learning by topic
Course
What is Telegram?. A Complete Guide
Learning how to use a popular messenger
Course
PPC Advertising. Drive Traffic and Boost Sales
How PPC advertising works, advertising campaign strategy, recommendations for website traffic increase
Udacity
This private educational company is based on Stanford University's computer science programme. Video lectures are offered mainly in English but include subtitles and text versions for those who can better absorb new information visually. The homework helps practise the knowledge in practice and includes tests and studies of concepts and ideas.
Udacity offers the comprehensive training programme "Become a Digital Marketer", which is part of the "Nanodegree" section, i.e. specifically designed for the step-by-step mastery of the profession from the zero level. It provides a comprehensive theoretical foundation so you can learn digital marketing at Udacity without any experience. In the meantime, this digital marketing programme is considered a premium programme and offers participation in real projects, interaction with an instructor, and even support in finding a job after graduation. However, it takes at least three months if you dedicate at least ten hours a week to the training. The programme includes content marketing, SEO, email marketing, media advertising, etc.
Udemy
A leading open-format online learning platform, that is, it allows you to publish your courses to any private users (after verification of their courses by site moderation, of course). Although this significantly reduces the quality of the training programmes, the platform still offers many useful courses on digital marketing at a low cost, which is their main advantage. With regular promotions and discounts, you can easily find a course in any area of digital marketing for as little as $10! Nevertheless, it would be best here to be especially careful when looking at the range. All teachers have different teaching methodologies, and not all are professional teachers or marketers. Pay attention to the course rating, reviews and topics listed in the structure so that the course will meet your exact needs.
How long does it take to learn digital marketing?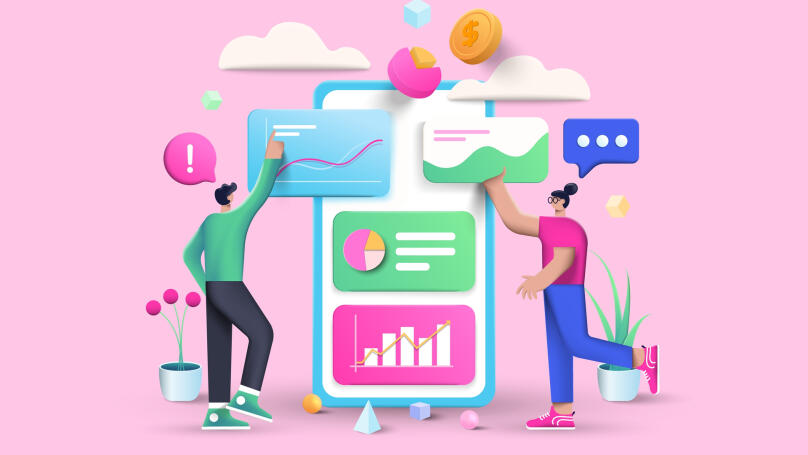 Typically, it takes three to six months to master digital marketing today fully. However, this can be reduced by taking more intensive lessons and dropping some digital areas irrelevant to your fields – such as influencer marketing or email marketing. However, as mentioned earlier, remember that digital marketing learning never ends for the real pros. After all, technology is constantly evolving and adding to it, and market trends are constantly shifting.
The best books for learning digital marketing
Books written by experts and experienced marketers with global reputations are also an effective way to learn digital marketing online. Therefore, we advise you on the following books, the most relevant and sought-after in 2022:
"Mobile Marketing: How Mobile Technology is Revolutionizing Marketing, Communications and Advertising" by Daniel Rowles. This book, in simple language and with colourful examples, will explain how the mobile world we live in today works and how to adapt any business, its marketing and advertising to it.
"The Zen of Social Media Marketing" by Shama Hyder. A practical guide to what quality SMM looks like today and how to use the tools of various social networks to attract more users and turn them into customers.
"Purple Cow: Transform Your Business by Being Remarkable" by Seth Godin. This book is for those new to the business and digital marketing who want to understand how Apple, Starbucks, and others managed to come to success. And, more importantly, how to replicate that path of theirs.
"The Power of Visual Storytelling" by Ekaterina Walter. The founder and CEO of Branderati explains how to influence consumers with illustrations and visual images, communicate with clients through photo posts, and build your roadmap in the digital sphere.
"The Art of SEO" by Eric Enge, Stephan Spencer, Jesse Stricchiola, and Rand Fishkin. Although it's from 2017, the manual is still relevant, as it covers the most basic and important aspects of SEO optimisation and working with algorithms, from domain selection to optimising sites for mobile devices.
The path to the dream of becoming a digital marketer is, of course, thorny and unpredictable. Still, thanks to the profession's popularity today, it's easy to find opportunities to master it, including free and self-paced opportunities. There is no best way to learn digital marketing – choose the one that is comfortable and useful for you.