Digital marketing trends 2023 -In case you missed it, we covered some of the top digital marketing trends of 2023, which will include a mix of both familiar tactics and emerging technologies and strategies.
There's blockchain, AR/VR, live streaming, short-form video, and more. Many of these trends have already made their debut in previous years but are picking up momentum and evolving in 2023. So in this post, we're going to take a deeper dive into the patterns within these trends and how they will influence marketers throughout the year.
2023 digital marketing trends & predictions, according to experts
To get a well-rounded perspective on how the 2023 digital marketing trends will impact consumers, marketers, and brands,  we came up with some key questions and interviewed marketers, advertisers, and business owners across verticals. They include:
How will social platforms adapt to TikTok?
Imitation is the most sincere form of flattery, right?
1. Some social platforms will imitate or partner with it
Six-year-old TikTok is one of the most popular social media platforms in the world with more than one billion monthly active users. It's especially popular with consumers born between 1997 and 2012, who are collectively known as Gen Z.
As this generation grows in spending power, other social platforms are scrambling to keep up—and to stay relevant.
Their most likely tactic in 2023 is imitation.
For her part, Tetiana Sira, senior digital marketing executive at Energy Casino, noted social media platforms have already responded by either copying TikTok outright, such as Instagram with Reels, or by implementing more vertical videos, like Pinterest and Twitter.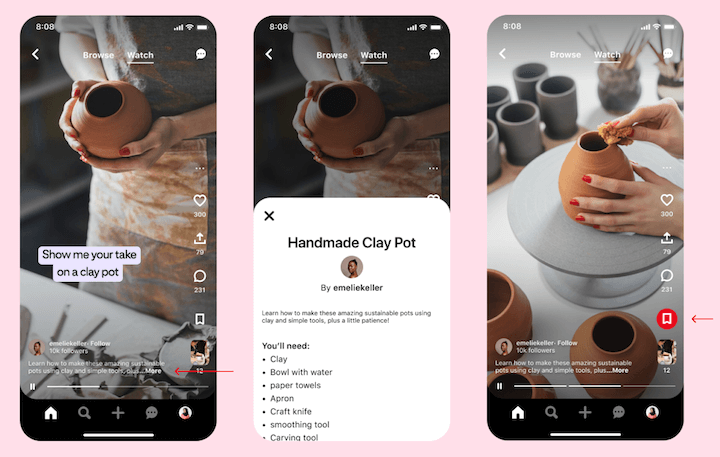 "There's clearly a much higher effort put into video consumption and trying to make it as seamless as possible," she said.
Shahnawaz Sadique, a blogger at CommonStupidMan.com, however, noted social platforms may also partner with TikTok to gain access to its content and users—or even acquire TikTok or similar platforms outright.
But, according to Carly Campbell, a blogger at Mommy On Purpose, there's more to TikTok's success than just short-form videos. It also has an easy-to-navigate interface and "intense focus" on user-generated content. These elements have helped the platform stand out and allowed it to create an engaged community.
"To effectively challenge TikTok, other social platforms will need to mimic the same user experience that has made it so popular," she added. marketing
2. Others will distinguish themselves
That being said, there are several ways social platforms could also distinguish themselves from TikTok in 2023.
One is by focusing on other types of content, such as long-form videos or live streaming, Sadique said.
Another is investing in AI to improve video capabilities and generate more engaging content, added Jessica Shee, manager at iBoysoft.
Campbell pointed to Snapchat, which is focusing on messaging.
"Similarly, Facebook is focusing heavily on its gaming and group features, which can also be seen as a way to set itself apart," she added.
What's more, Averi Melcher, owner of OSO Content, said platforms may re-evaluate their creator monetization strategies to better compete with the TikTok Creator Fund, which compensates users who generate at least 100,000 authentic video views monthly, to encourage creators to stay on their platforms as well.
"We are seeing this with Instagram subscriptions, Facebook Reels, Pinterest's beta program, and YouTube Shorts," Melcher said. "If these platforms are able to incentivize and better reward creators, I think they will successfully gain back some market share."
In addition, Melcher said it's possible social platforms may improve their creator campaign attribution models or even build out native communities to connect people with brands—and therefore better ways to monetize their content.
Will AI content generation help or hurt content marketing?
If you have a finely tuned content marketing funnel, you'll want to tune into the perspectives on this 2023 digital marketing trend.
3. The advantages will abound…
AI content generation started to go mainstream in 2022—and it will play an important role in marketing in the year to come.
For starters, there's potential for AI content generation as a brainstorming tool for marketers.
"At Delightful Ads, we are already using it as a starting point for creating assets needed for our clients' advertising campaigns—such as ad copy, headlines, hooks, graphics and even videos," said digital ads strategist Jenn Martin. "AI offers new ideas and angles that we may not have thought of on our own."
AI will also be increasingly used to create content tailored to specific audiences. That means taking data like demographics, past purchases, interests, and needs into account, added blog coach Becca Klein.
"[The resulting content] could include personalized emails or targeted ads that would be more tailored to the individual needs of their customers," Campbell added. "As they become increasingly good at utilizing natural language processing, marketers will be able to develop more dynamic and engaging campaigns."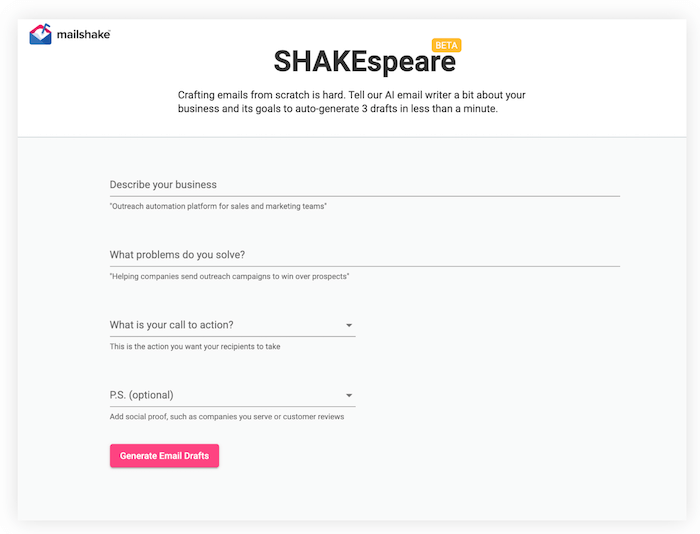 Mailshake's AI email generator SHAKEspeare
As a result, relevance and effectiveness will also increase.
And, with better content, brands are better poised to win market share.
"With [the support of AI tools], content can be kept at a high standard over time and the brand's reputation may be protected," said Peter Drow, head of marketing at Nccttingtools. "Establishing a name for yourself in the marketplace is a surefire way to give yourself an edge over the competition."
And, with quality content comes other advantages.
"AI content generation tools can help businesses to ensure the accuracy and consistency of their content, as the tools can be trained to adhere to specific guidelines and standards," Sadique said.
In turn, this can yield improved return on investment (ROI), Drow said.
This may also help increase revenue.
"Using AI-driven processes, businesses can crank out more and better blog and social media material," Drow added. "Users' confidence in these methods can be bolstered through these outlets [as] customers are more likely to buy from reputable companies."
What's more, AI helps improve the speed of content creation, said Sugiya Oki, who runs reviews site We Recommend.
"Inevitably, AI-powered writing tools will outpace their human competitors when it comes to speed," Drow added. "To that end, they are a time-saver for businesses and content producers. This frees up valuable time that may be used for other important tasks, such as improving the quality of the content provided by AI."
Sadique agreed.
"AI content generation tools can help businesses to create a high volume of content quickly and efficiently, potentially increasing productivity and allowing businesses to focus on other tasks," he added.
"This can significantly impact a digital marketer's ability to quickly and effectively create content, as they no longer have to manually research and write blog articles, product descriptions, web content, or other forms of written marketing material," Campbell said.
Meanwhile, AI tools will increase competition on short-tail keywords with high volume. That's according to James De Roche, managing partner at Lead Comet, who also noted, "While there can be initial anxiety around this for businesses, it will push content marketers to pursue more relevant, long-tail keywords with more conversion potential.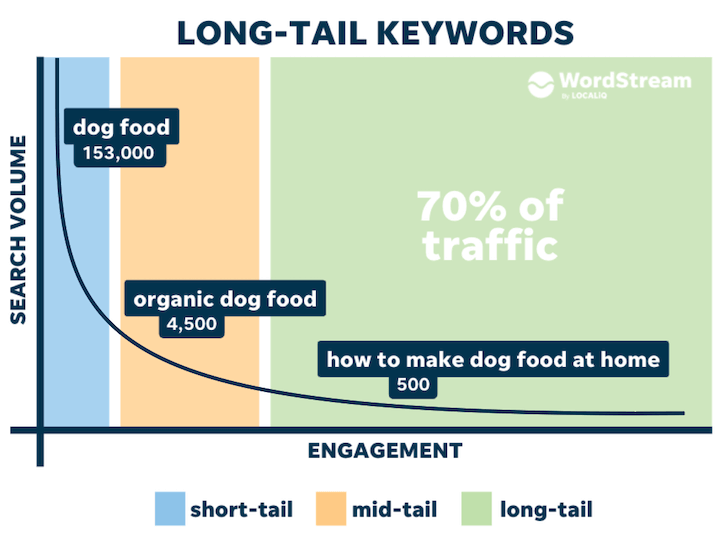 AI may even come to replace some of the services currently offered by search engines.
"This is likely to impact the way that companies approach the use of digital PR and link building," said Phelan Gowing-Mikellides, business development manager at Digital Trails. "As a result, we are very likely to see a shift in the way that businesses approach their online presence and the strategies they use to reach and engage their target audiences, including changes to their backlink profiles [in 2023]."
AI may also automate the tasks performed by PR professionals.
"Think writing and distributing press releases, managing social media accounts or, at the very least, populating digital channels with high-quality, perfectly optimized AI-generated content," he added. "This has the potential to displace many PR professionals, as AI is able to perform these tasks more quickly and efficiently than humans."
4. Human copywriters, don't panic
But human copywriters shouldn't panic—they will still have a role to play.
That's in part because the quality and effectiveness of the content AI produces are only as good as the inputs it receives.
"It still takes an experienced marketer/advertiser to determine not only what prompts to submit, but also what is useful in selecting and refining the finished product," Martin said.
Oki agreed, noting AI doesn't understand emotions and therefore can't grasp search intent.
Free guide >> The 120 Best Words & Phrases for Marketing with Emotion 😌
"There's still a lot of room for unique creativity that only the human brain can conquer, at least for now," added Dmitry Sokhach, founder of Admix Global.
That will help distinguish copywriter-generated content from "a massive increase in generic blog content," as De Roche called it.
"[The latter] may address the query, but it will lack the advice needed to satisfy search intent," he said. "To do that, you need expert insights and advice."
This also ties into first-hand experience, niche expertise, and author authority, which we discuss in our 2023 SEO trends.

What will DEI efforts focus on in 2023?
In recent years, diversity, equity, and inclusion (DEI) has become an increasingly important business initiative. Here's what experts see as being the key focal points this year.
5. An emphasis on equity & intersectionality
In 2023, companies will continue to foster more equitable workplaces—with the key word being "equity."
Eleanor Fletcher, CEO of The Best Brisbane, explained, "Equity in the workplace refers to the right to fair representation and equal progression chances for people with various backgrounds and experiences."
Garit Boothe, CEO of Digital Honey, noted this can include efforts to increase underrepresented groups, as well as to implement training and education programs and to promote diversity in leadership and decision-making roles.
"It is also possible that there will be a greater emphasis on intersectionality and addressing the specific needs and experiences of diverse individuals," he added.
This is something we mentioned in our Best Marketing Strategies for Small Businesses 2023 post.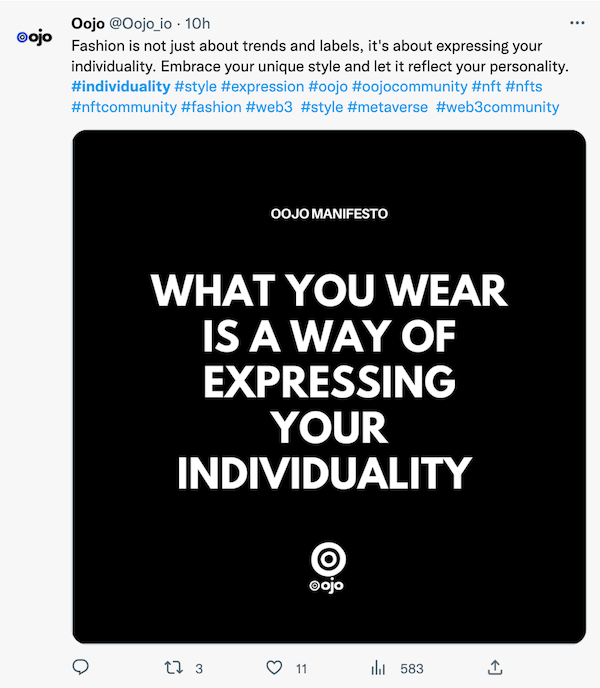 6. More accountability through quantification
We can also expect more focus on accountability as organizations set targets to regularly measure progress.
That's according to Sadique, who also expects to see more data and analytics—such as tracking diversity and inclusion metrics and identifying areas for improvement—along with the continued growth of employee resource groups and increased focus on diversity in leadership.
Jeff Romero, founder of Octiv Digital, agreed.
"This entails tracking and analyzing diversity and representation at all organizational levels, utilizing competency frameworks and other strategies to lessen bias in hiring and promoting employees, and coaching front-line managers on how to conduct team meetings and collaborative sessions to promote equal respect for all opinions," he added.
Meanwhile, more companies will take steps to address DEI in campaigns that focus on underrepresented groups or specific social causes relevant to those groups.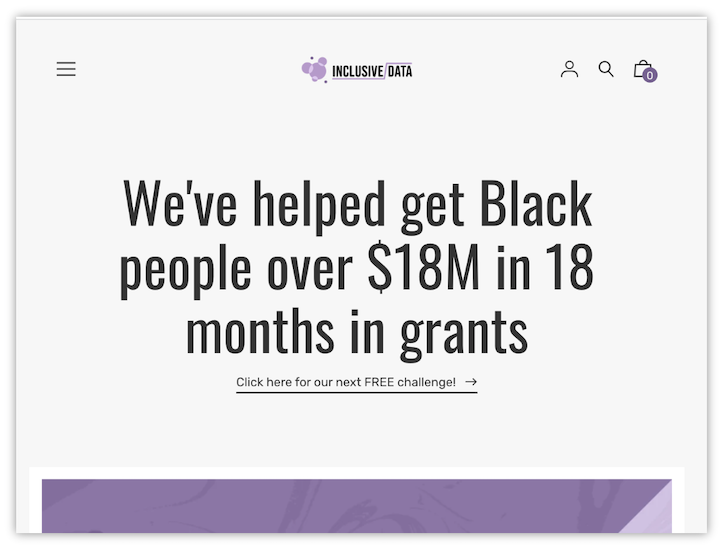 "We can expect this trend of greater representation in digital marketing campaigns to continue into 2023," said Tomasz Niezgoda, head of marketing at Surfer.
The same is true of content more broadly.
"Marketers are increasingly looking to create content that is inclusive and resonates with a broader range of audiences," said David Ellis, founder of Teranga Digital Marketing.
Will PPC and automation make friends?
We are all too familiar with Google's push for automation. We asked experts where they see things heading, sentiment-wise.
7. More positive attitudes toward automation
In 2023, expect to see attitudes toward automation become more positive.
"There has always been a bit of an aversion to automation and AI in marketing and PPC—a lot of people thinking that it will take their jobs," said Sean Nguyen, a director at Internet Advisor. "The reality of it is automation is there to assist us and help us refine our jobs. While it might take over some tasks, that actually helps us to become better at more complex tasks that aren't tedious or repetitive."
Shee agreed, noting automation can help with keyword research, ad testing, and analytics tracking.
This is especially true when it comes to Google Ads.
8. Greater efficiency in Google Ads
To that end, we can expect Google Ads automation to grow as advertisers optimize their campaigns and reach their target audiences more effectively. This automation technology includes bid optimization, as well as ad creation and testing.
The result is improved efficiency and effectiveness, Boothe said.
That is especially true since the release of Google Ads' Performance Max campaigns in 2021.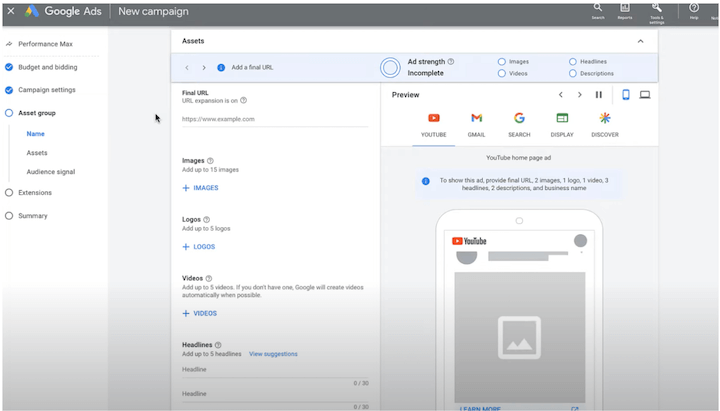 "They learn how to identify where someone is on their path to purchase and show the right ad at the right time on the right Google channel to help a prospect move further along the customer journey," Martin said. "And they even provide feedback on what is working and what inputs to test in the future that we hadn't even considered."
As they become more familiar with the benefits of automation, marketers will likely rely on it more to manage their Google Ads campaigns. However, Sadique warned, it does have limitations, such as the potential for errors and biases. Learn more in our Performance Max Dos, Don'ts, Watchouts and Workarounds.
"Businesses may adopt hybrid approaches that combine automation with manual management in order to get the best of both worlds," he added.
Learn more about a hybrid approach to automation in Google Ads here.
How will the rise of Gen Z impact brand strategies?
As Gen Z becomes more influential, marketers are adjusting their strategies to engage them. Here's how:
9. Greater influence on authenticity, transparency & accessibility
For starters, focus on authenticity and transparency.
"Brands will need to be genuine and transparent in their marketing efforts in order to appeal to this group," Sadique said.
Fletcher agreed.
"Gen Z is drawn to marketing that is honest… they prioritize word-of-mouth advertising from friends and influencers and social evidence," she added.
That means incorporating user-generated content featuring consumers who resemble them and being transparent about their environmental impact, dedication to diversity, and core values.
"Gen Z is more diverse and socially conscious than previous generations, so brands will need to prioritize diversity and inclusion in their marketing efforts in order to appeal to this group," Sadique said.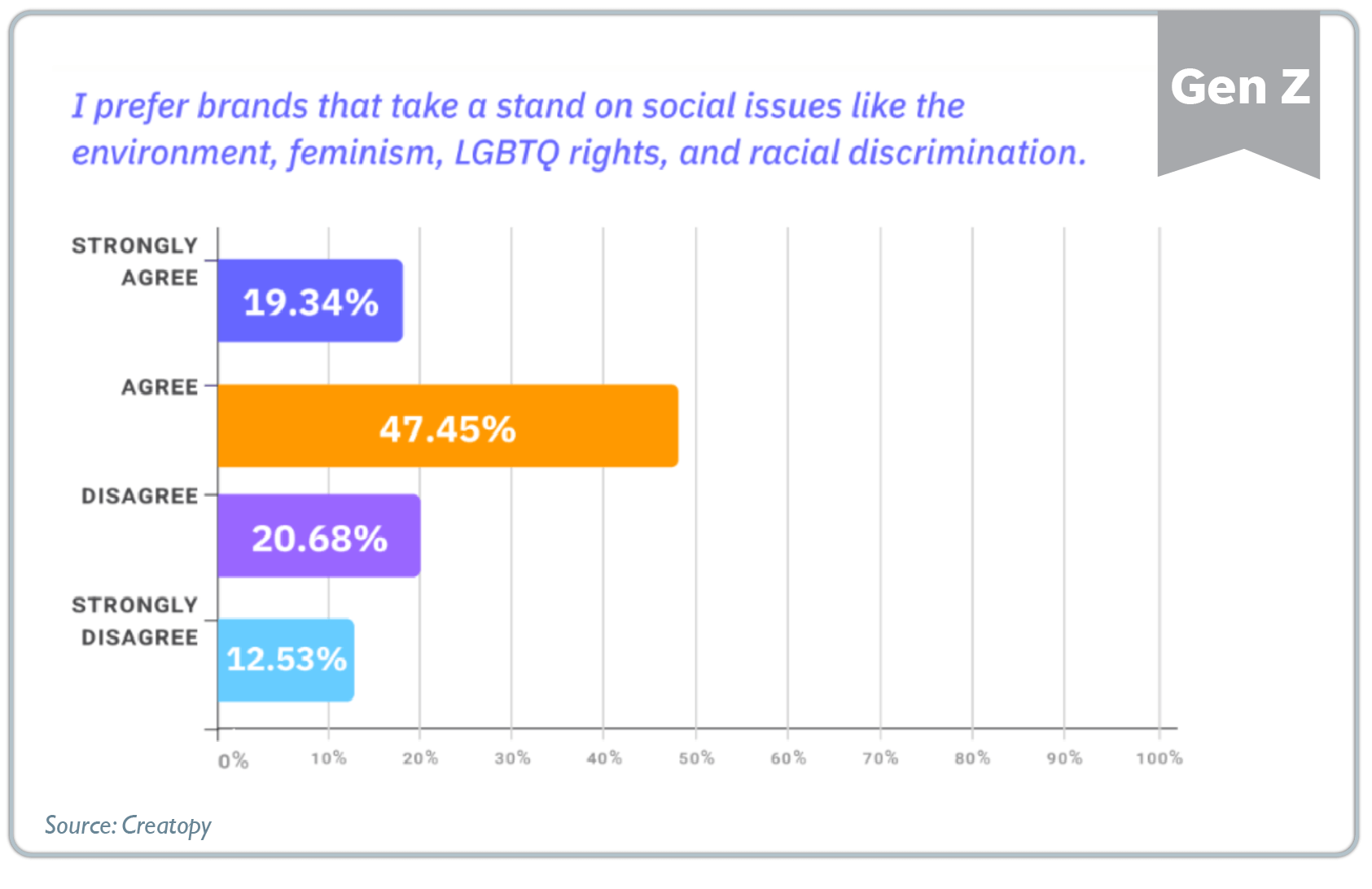 From our post on how to market to Gen Z.
Campbell agreed, noting this also includes accessibility.
"Through storytelling and cause marketing, brands can develop narratives that align with the values and beliefs of Gen Z and that work to create an emotional connection with their target audience," she added. Digital marketing trends 2023
10. Immersive experiences
Gen Z also values experiential marketing and immersive experiences, which are key to engaging this cohort, along with omnichannel marketing.
"One of the main challenges for brands when it comes to engaging with Gen Z is understanding the various platforms and digital tools that this generation uses," Campbell said. "Many Gen Zers have grown up with technology and are highly engaged on social media and digital networks. This means that for brands to capture their attention effectively, they must be present and active on the platforms their target audience uses."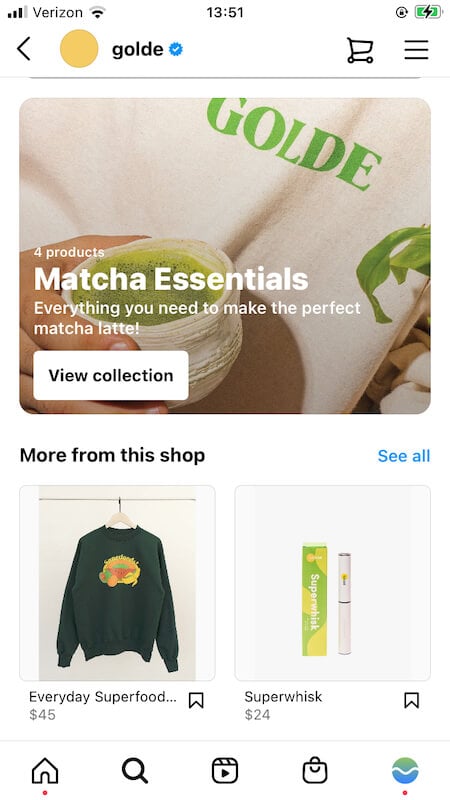 Facebook and Instagram Shops offer immersive, ideal-for-Gen-Z experiences on social media
What changes will we make in privacy?
In addition to automation, privacy is the other unstoppable force that is carving out new paths in marketing each year. Let's see what directions they're headed in.
11. More transparent data practices
Meanwhile, privacy-friendly reporting dictates marketers must embrace a more transparent approach to data in which users give explicit consent—and, as Home Grounds CEO Alex Mastin noted, they must strike the right balance between personalization and privacy.
To do so, marketers must clearly communicate their privacy practices to clients and stakeholders and be transparent about the data they are collecting and how it is being used.
They should also use consent management systems and provide clear opt-outs.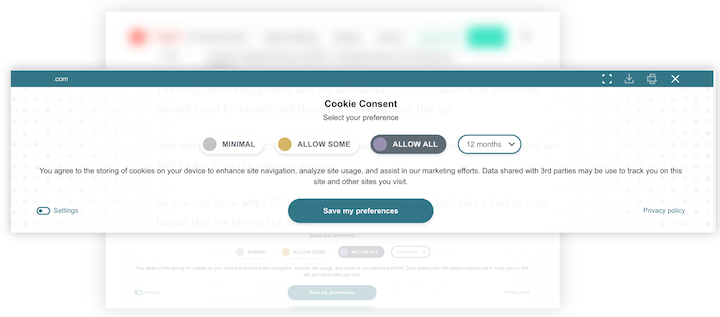 12. Greater adoption of privacy-friendly tracking technology
"Additionally, they should invest in security tools that allow them to measure performance while still keeping customer data safe from misuse or attack by third parties," Niezgoda said.
But, Sadique noted, marketers can implement privacy-friendly tracking methods, such as using anonymous identifiers or aggregated data, to track and report on key metrics without collecting personal data. Digital marketing trends 2023
Google's Topics API, the Facebook Conversions API, Facebook's Aggregated Event Measurement, and Google Ads' Enhanced Conversions are all examples of privacy-friendly technology solutions you can embrace in 2023.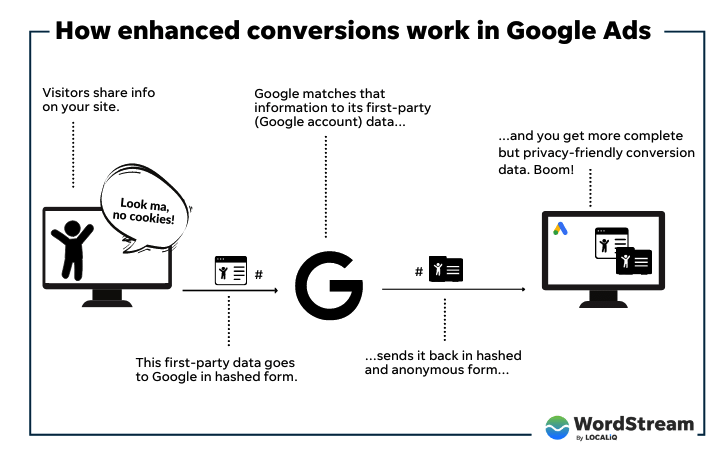 Boothe agreed, noting it may also involve working with third-party organizations that have expertise in privacy-compliant data management.
"Marketers will need to be proactive in finding solutions that balance the need for data with the importance of protecting consumers' privacy," he added. Digital marketing trends 2023
Will we get a handle on the supply chain?
Inflation and supply chain shortages were the biggest culprits behind Google Ads cost per lead increasing in 2022. Here's what experts predict on the supply chain front.
13. More businesses will adopt supply chain automation technology…
To protect against the supply chain shortages that plagued the holiday season, businesses can diversify their sourcing, which includes working more with local suppliers, and/or strengthen ties with existing vendors.
They can also implement multi-modal transportation and invest in analytics for greater supply chain visibility and to better anticipate and manage risk.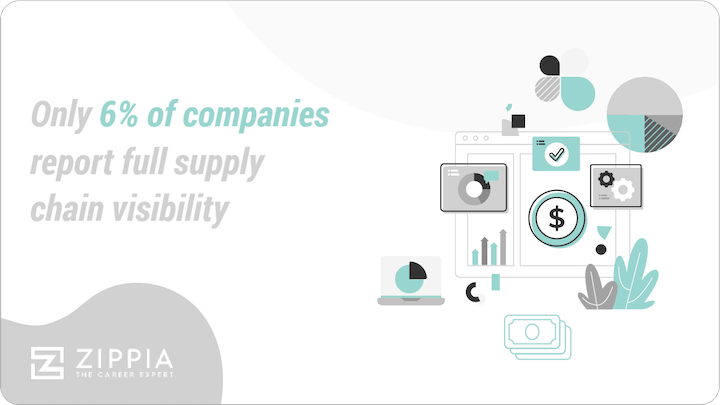 "[Supply chain automation technology] can help to expedite the movement of goods, reduce delays in the supply chain and increase efficiency," Campbell said. "Automation technologies such as robotics, machine learning, big data analysis and artificial intelligence can enable businesses to identify and respond to supply chain disruptions."
14. …and build prevention and contingency plans
In addition, building up inventory levels, implementing contingency plans, and looking for opportunities to increase efficiency and reduce costs can help mitigate bottlenecks.
"Some businesses may also be considering shifts in their operations, such as moving production to different locations or adopting new technologies, in an effort to reduce their reliance on certain suppliers or markets," Boothe added.
Inventory optimization, which identifies when and where shortages may occur, is another tactic.
"Additionally, businesses may also look to build more robust safety nets, such as insurance policies and emergency funds, to protect them from unexpected economic changes," Shee said.
Keep an eye on these 2023 marketing trends
We've covered a lot of trends, patterns, and perspectives in this post, on everything from AI content to supply chain automation. Here is the final list to sum up our top digital marketing trends and predictions for 2023:
Some social platforms will imitate or partner with TikTok
Others will distinguish themselves
The advantages of AI content will abound
But human copywriters need not panic
A greater emphasis on equity & intersectionality in the DEI realm
The use of metrics and KPIs for greater DEI accountability
More positive attitudes toward automation
Greater efficiency (but caution) in Google Ads
Catering to Gen Z's affinity for authenticity, transparency & accessibility
Immersive experiences on social
Increase of transparency in data practices
Greater adoption of privacy-friendly tracking technology
The need for automation technology remains
Building of supply chain prevention and contingency plans
The Top 14 Digital Marketing Trends of 2023 .